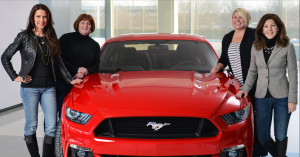 In honor of Women's History Month and International Women's Day (March 8th, 2014), Ford is celebrating the invaluable influence that women have had over the past 50 years in the creation, production, and progression of the Ford Mustang. Ford is also highlighting a few of key ladies involved in the development of the all-new 2015 Ford Mustang. Read more on the roles of these ladies here, and see their ideas in action in the short video below!
Women have been a relentless influence in the evolution of this American muscle car since its inception, not to mention that the first Mustang sold was bought by a woman in Chicago (2 days before they even went on sale!) Women continue to hold key positions at Ford Motor Co. with a wide range of responsibilities, including engineering, customer drive experience, and vehicle aesthetics oversight.
Join Prestige Ford along with Ford Motor Company as we recognize the important roles that women have had in one of the most recognizable cars in American history. Check out our inventory of your favorite Fords, including the Mustang, at www.prestigegarland.com!